Art as Experiment: Body in the Kitchen
2020.12
Online Live Streaming Performance
Global Art Joint Project 2020
Central Saint Martins, University of the Arts London
École Nationale Supérieure des Beaux-Arts de Paris
Global Art Practice,Tokyo University of the Arts
ロンドン芸術大学セントラル·セント·マーチンズ校
パリ国立美術高等学校
東京芸術大学グローバルアートプラクティス
Photo:Yoshihiro Inada
I'm so glad that we can start the global art joint project this year against the difficult situation caused by the pandemic.
Usually we have separate two units - London unit, and Paris unit. But this year we could have as one Unit together.Thank you for the efforts and trust, and friendship of the faculties and stuffs of all institutions.

We have been isolated for many months, and we hardly could touch the others. We miss sense of imagination through the touching and tactile.
During society distance, we depend on too much visual information, for example, we always checking news and scientific numbers by watching smart phone.

This year's program is art as experiment: body in the kitchen. This workshop explore and reenergize the power of imagination by the body and connected movement, relationship with food and cook, starting from an ordinary activity.

I hope you enjoy the program.


—— Yusaku Imamura

Part 1
Dirty Dishes Project

Photos/Foam board/Water pipe
写真/発泡スチロール/パイプ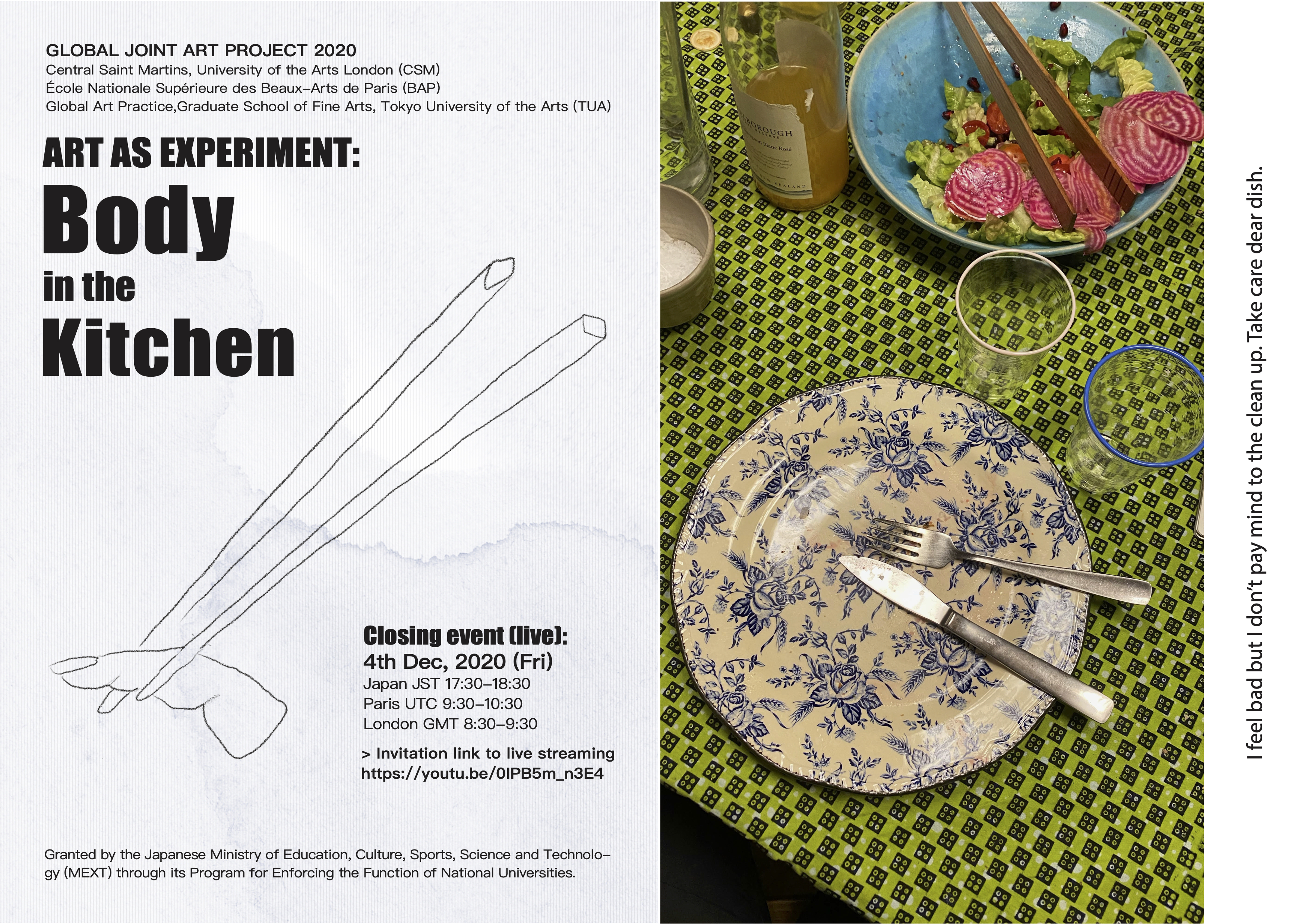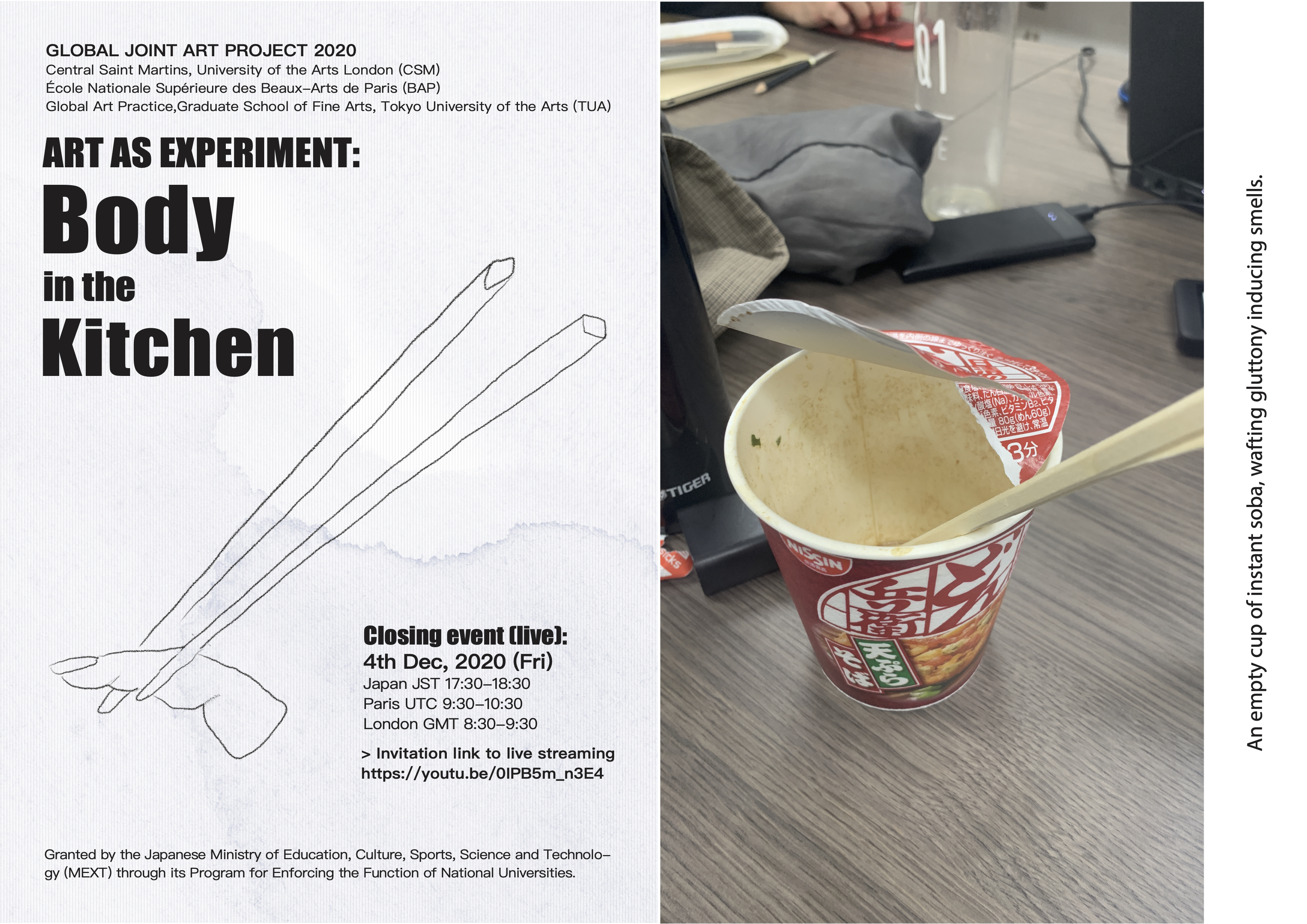 Part 2
Unit Course Archive Trolley

Video/Projector/Tableware/Trolley
ビデオ/プロジェクター/食器/カート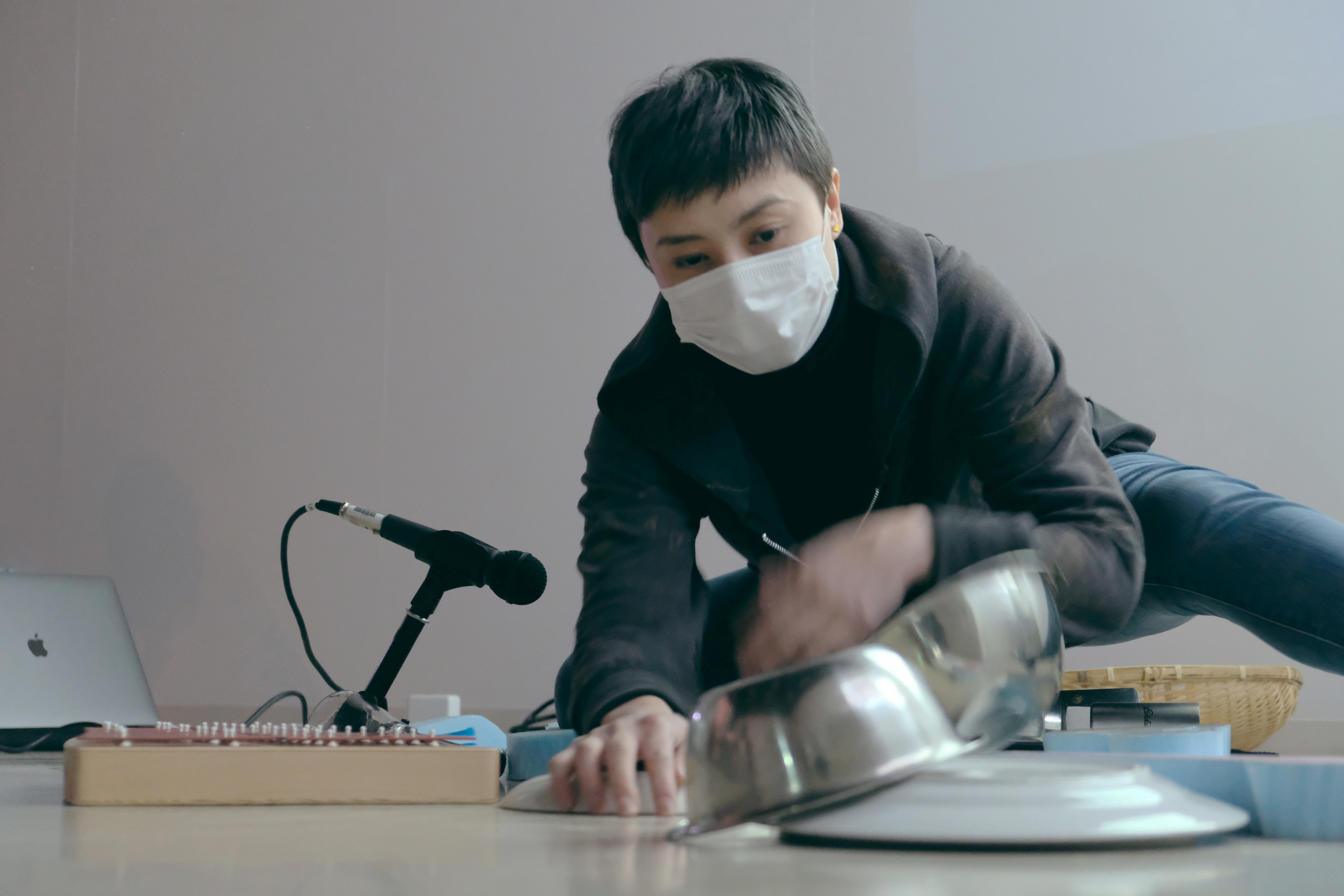 Photo:Yoshihiro Inada

Part 3
Roundtable Dinner of Screens

Video/Digital Devices/Roundtable
ビデオ/デジタルスクリーン/ラウンドテーブル

Part 4
Second-life Online Game

Virtual Game Software
バーチャルゲームソフト

Part 5
Last Dinner Tablecloth

Tablecloth/Scissor
テーブルクロス/はさみ

This open studio is an open studio for GAP's 2020 Global Art Joint Curriculum (co-hosted by CSM and BAP).
In previous years, the program had been held in London, Paris, Tokyo and Toride, where each school visited one another at their campuses. This year, however, all the programs were held online. Despite being online, all the workshops developed in a way in which one could sense, through the screen, the body movements and things which took place behind the moving images.
Artists(Students)
Chen Weiting
Huang Yinwen
Fumimaro Ayano
Yumeto Ikegami
Wang Jialan
Kameta Mariana
Ken Shimizu
Cao Xiaotai
Rin Takahashi
Mao Nakagawa
Hwang Naeun
Koki Fujinaka
Paul Emile

Faculty
Yuko Mohri | TUA , Lecturer Yusaku Imamura | TUA, Professor Paul Haywood | CSM, Dean of Academic Programmes Alison Green | CSM, Programme Director (Cover), Culture and Enterprise; Course Leader, MA Culture, Criticism and Curation Fred Meller | CSM, Programme Director, Drama and Performance Emmanuelle Huynh | BAP, Professor, Dance Studio
©️ 2014-2022 Cao Xiaotai. All rights reserved.